Turn fans into loyal customers with personalized email campaigns.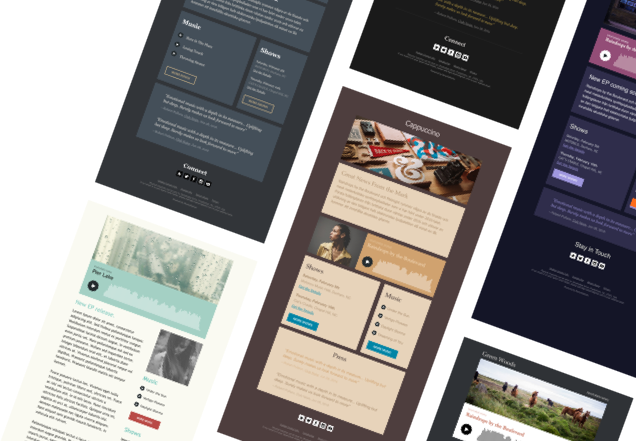 Music Fan Email Marketing & Messaging
You may never have thought of it before, but email is the best tool for attracting fans, promoting gigs and even selling your merchandise.
You're probably wondering that you already write, play, produce and distribute your own music – where could you possibly find the time to find email subscribers? And once you do, how will you be able to interact with those subscribers and build lasting relationships?
Email marketing is the best way to get the word out and generate buzz in our post-CD society. In fact, it's much quicker and less expensive than traditional marketing methods.
We integrate intelligent software with expert services to acquire, retain, and grow fans – driving tangible business results. 1710Media offers brands the tools to manage and engage top loyal fans using email, mobile, web, search, social and display advertising.
Your fans want to hear from you. 1710Media will design, send and track messages. We can share new songs, upcoming shows, videos, or a custom status update. We have resources to gather your fan emails anywhere you go online. We send great-looking emails that engage and sell.
Track statistics and monitor the results of your campaigns through our advanced email analytics. Keep an eye on opens, clicks, bounces, mobile view statistics, email comparisons, and more.
The first thing 1710Media will do is develop an email marketing strategy for your brand. It will define the "who, what, when, and how" of your campaign.
Lead Magnets
The next thing 1710Media will do is create a strategy to develop your email list. This normally consists of developing lead magnets, or offers, that incentivize fans to provide you with their email address in exchange for something of value. Examples of lead magnets include free guides, albums, stories, checklists, quizzes, exclusive tour, Books, and much more. We will work with you to develop a lead magnet to attract more leads for your brand.
Website Call-to-Actions
The next step 1710Media will take is to implement call-to-actions on your website or on social media platforms to promote your lead magnets. This will help you convert your website or Social Media visitors into email subscribers.
Email Marketing Software
1710Media will help you select and implement an email marketing software to receive leads and send emails. If you have a preferred email marketing software, we can also integrate with yours if it fits within our capabilities.
Email Newsletters
1710Media will design email newsletters that reflect your brand. The emails we develop will use best-practices for email deliverability, open rates, click-through-rates, and conversions. The content within your emails may include upcoming albums, New Single, relevant blogs, case studies, upcoming events, and more.
Email List Maintenance
1710Media will also perform routine list maintenance. We will monitor your contacts' engagement on an ongoing basis to ensure that you have an engaged email list.
Email Marketing Reporting
1710Media will send detailed reports with interractive dashboards every month to breakdown your email marketing performance. The main metrics we look at are subscribers, open-rates, click-through rates, and conversions. We will review, analyze, and strategize to improve these results each month.
Why is email marketing still one of the best ways for musicians to promote their music?
- Social media trends come and go, but email holds steady.
- Email lists give you a way to reach your most devoted fans all in one place.
- Email marketing lets you connect with your audience authentically and on your own terms.
- Email is clear and direct, and people check their email constantly.
- Email helps drive traffic to your social media channels and streaming platforms.
Do you have questions? Get in touch right now.