Our artists are able, through our data acquisition and interpretation, to grant the wishes of their fans. 1710 Media's Music Data analytics team follows your fan's journey throughout your environment and beyond – mapping out the fan journey with precision that leads to insight and action.
1710 Media helps entertainment professionals make smarter and faster music business decisions by providing reliable data, beautiful visuals AND in-depth insights.
We don't just show you numbers - we produce clean, precise and actionable insights, so you and your team can make the most efficient and informed decisions to nurture and grow your entire ecosystem. At 1710 Media, we don't just display top-line trends and playlist data.
You can drill down into the granular data, for every aspect of your product campaign, across streaming platforms such as Spotify, Apple Music & itunes, Deezer, Google, Pandora, etc.
We clean and refine your data before ingesting, allowing you to rest easy knowing what you are being shown is a true representation of your catalogue's performance.

Furthermore, you can share this data with anyone in your team, artist managers, PR, promoters and beyond..
More than 20 music streaming and social media data sources plus the power of data science … all in one place.
Take advantage of our powerful and responsive Dashboard created for you with advance Filter and Drill down options.
CURRENTLY PROCESSING OVER 500k STREAMS A DAY FOR OVER 2K RECORD LABELS AND ARTISTS, 1710 MEDIA IS EXPANDING IT'S BENCHMARKING CAPABILITIES TO CREATE NEW, STANDARD SCORES TO MEASURE PERFORMANCE AND VALUE OF SONGS AND VIDEOS.
Reporting
FROM SALES TO INSIGHTS
Numbers imbued with meaning drive smart decision-making. Our team's expertise turns raw numbers into useful knowledge. In real-time, we track website traffic, ecommerce sales, and mailing list sizes. We compare metrics to separate look-in audiences from engaging audiences. When we know where the numbers take us, we know how to increase the impact of an artist's campaigns. Numbers imbued with meaning drive smart decision-making.
360º View of Fans
OPERATE INSIDE AND OUTSIDE THE BOX
The goal of our optimization is simple understanding. Fans have artists they genuinely love, and we genuinely want to make that precious connection. In that pursuit, our team tracks numerous channels - websites, webstores, email marketing, DSP preferences, socials - to identify fan affinity and consumer behavior. Get instant updates on all things that matter
PLAYLISTS
We show you where your music is playlisted - and where it could be. Explore the playlists where your music is performing on Apple Music & Spotify. See which playlists generate most streams from your catalog, and which curators are influencing discovery.
USER GENERATED CONTENT
Discover your biggest influencers. Never miss out on fan uploads like live videos, covers and remixes. Visualize consolidated trend data from top music services. See top performers and gain a deeper understanding of your daily streams and download consumption. Understand what's performing across all formats, stores, services, and channels.
BLOGS
We monitor hundreds of blogs worldwide and let you know when and where your music is featured.
AUDIENCE
Watch your audience grow. See how and where your network develops over time. Understand your audience by age, gender, device & geography. Keep track of your super fans. Discover how they engage with your music across DSPs. Get a deeper insight into the top cities where your content is performing. Understand where the audience is, and inform your touring decisions. Visualize your sales and streaming activity on a map. Drill down into city and state level data to better inform touring and marketing decisions.
REVENUE ANALYTICS
See your digital revenue in a dynamic dashboard. Drill down into your revenue data with interactive graphs, and get detailed insights by channel, country, service, artist, label, release and track. Easily identify your winners. Our powerful analysis comes with advanced search and filters. It is as simple as a Google search to segment your data and get detailed insights on specific criteria.
ENGAGEMENT
Music is social. We track the way your fans interact with your music. Find out what your listeners are saying about your sound.
MILESTONES
Identify your biggest career achievements and discover future opportunities.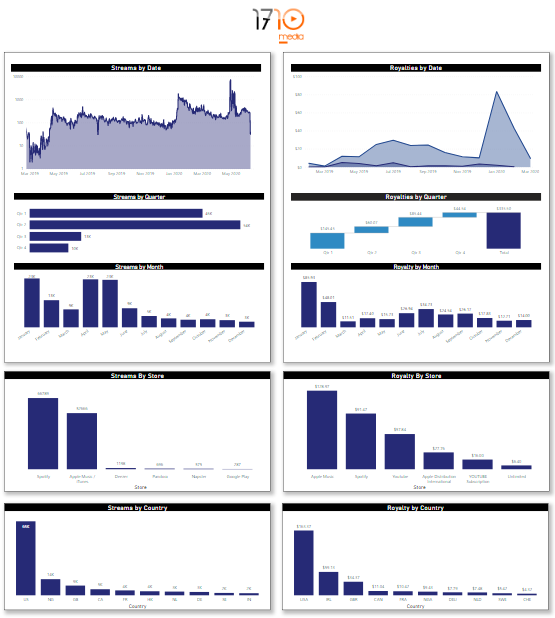 To get a Quote, Get in touch right now!