Data Analytics For the Music & Entertainment Industry
1710Media helps Music & Entertainment Professionals make smarter and faster business decisions by providing reliable data, beautiful visuals AND in-depth insights. We provide you the opportunity to access deep data analysis about your career.
We produce clean, precise and actionable insights, so you and your team can make the most efficient and informed decisions
Apply data to the business of music from album releases to promotional strategies and touring. 1710Media will apply data analysis, extract data, perform queries, and represent data visually in ways that help with communication and understanding.
When used correctly, data about artists and music serve as invaluable tools, allowing to measure performance accurately and understand the current market, informing decisions with real facts and figures, and providing insight into how existing processes may be made more efficient.
Its important to know where your music is played from. Not just sales data but social media engagements, radio airplays and many more. We provide you the opportunity to access deep data analysis about your musical career.
Features
1710Media creates beautifully designed websites that are built to your specifications around your brand styling.
Sales & Insights
Our team's expertise turns raw numbers into useful knowledge. When we know where the numbers take us, we know how to increase the impact of an artist's campaigns.
Identify your biggest career achievements and discover future opportunities.
360º View of Fans
Our team tracks numerous channels; websites, webstores, email marketing, DSP preferences, socials - to identify fan affinity and consumer behavior.
We track the way your fans interact with your music. Find out what your listeners are saying about your sound.
Playlists & Blogs
We show you where your music is playlisted - and where it could be. Explore the playlists where your music is performing on streaming platforms. See which playlists generate most streams from your catalog, and which curators are influencing discovery. We monitor hundreds of blogs worldwide and let you know when and where your music is featured.
User Generated Content
Discover your biggest influencers. We Visualize consolidated trend data from top music services. See top performers and gain a deeper understanding of your daily streams and download consumption. Understand what's performing across all formats, stores, services, and channels.
Audience
Understand your audience by age, gender, device & geography. Get a deeper insight into the top cities where your content is performing to inform your touring decisions.
Revenue
Drill down into your revenue data with interactive graphs, and get detailed insights by channel, country, service, artist, label, release and track.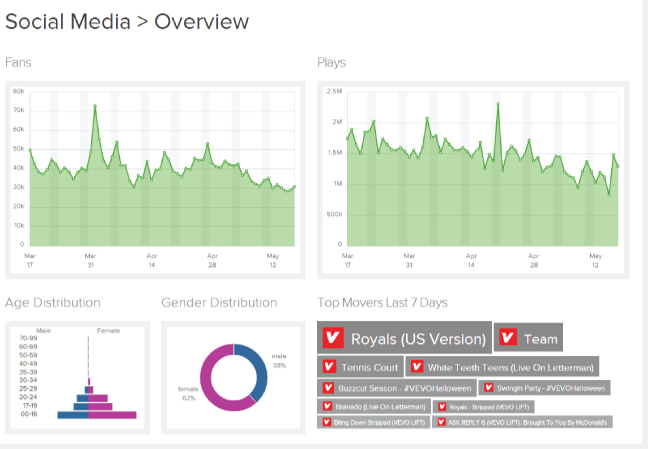 Get in Touch
Interested in our Music Data Analytics?
Intrested in any of our Data Analytics services? Then drop an email across, fill out the enquiry form or call on the number below;
Email: info@1710media.com
Phone: +234-706-919-9522
Music Insights
Stay in the know with music industry insights about Data Analytics For the Music & Entertainment Industry.